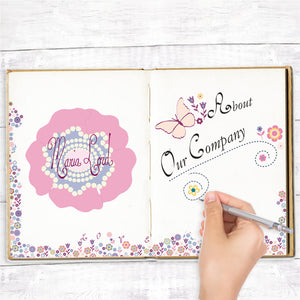 About Our Company
Maria Lord Designs, LLC was founded in 2013 with the vision of  creating greeting cards that are beautiful, practical, high end and distinct. The fun stylized shapes and specific use of color that characterizes our products has a blend of sweet and boho chic yet sophisticated and classic. Designed with love to share with others.
Two of the collections are also sold as collectibles: "FlowerGirls" and "Paper Dolls". The Flower Girls collection was created based on characters of a beautiful story. The story is about a group of adopted little sisters from different ethnic backgrounds that grew up together, the characters share uplifting messages in each card. The Paper Doll collection has a detachable paper doll with a written message in each one of the front card pockets.
Each of these collections are characterized by the use multicultural characters. The designs aim to inspire both children and adults to express love, gratitude and good wishes through a very personal, timeless medium such as a greeting card. Our hope is that our products will bring loved ones together and will be cherished by generations to come.
"Love Letters Forever!"
About Our Founder
Maria Lord was born in NYC, the borough of Queens; her mother is Peruvian and her father from Romania. At six months old she left the States to live with her grandparents in Lima, Peru. Since that age until the age of twelve she moved around from New York, New Jersey, Florida and Callao, Peru. Most of her childhood was spent in the Peruvian Coast until the age of twelve when she moved back to settle in New York. As a young child, she always used her creativity and imagination: gathering random objects in the street and creating beautiful things from them.
In Peru, she lived with her grandparents. Maria spent  many afternoons in her grandparents' bookstore in Callao; they would give her calligraphy workbooks from their store  so that she would practice her handwriting.  She also had the opportunity to attend a Chinese Peruvian school for a few years where she learned about the Chinese culture. All these life experiences growing up greatly influenced her design aesthetics. She obtained her bachelor of fine arts from the Fashion Institute of Technology and worked in the fashion industry for several years creating a myriad of prints and embellishments.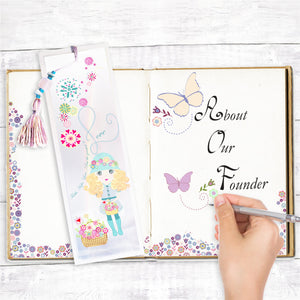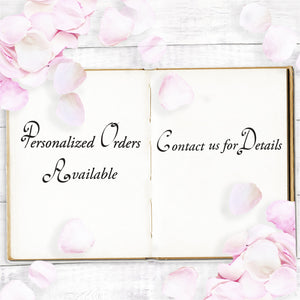 Personalized Orders
Our company specializes in the art of giving. We create personalized items such as: wedding favors, photo albums (for events such as, weddings, birthdays, anniversaries, retirements.) We will develop your vision using our beautiful design touch that characterizes our brand. For more information please contact us.
Contact Us